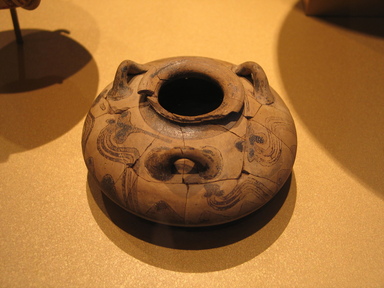 Alabastron
Vessels made in the Minoan kingdom of Crete and at the city of Mycenae in Greece appear in many Dynasty 18 sites. Precisely what materials were shipped in these pots is uncertain, but they probably contained traditional Aegean products as sesame or olive oil.
Catalogue Description:
Small Mycenaean pottery vase, squat body, buff background with dark reddish-brown marine decorations. 3 handles on the top of body. Condition: Assembled from many fragments but intact.
---