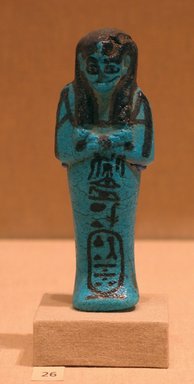 Funerary Figurine of Henuttawy
Catalogue Description:
Light blue faience Ushabti of Queen Hent-taui wife of Pinezem I. One column of painted inscription down front of body. Painted flail grasped in each hand. Condition: Ushabti broken just under hands and has been assembled from two pieces. All painted details are a deep purple-blue; face and head show extensive traces of defective firing. Poor workmanship.
---