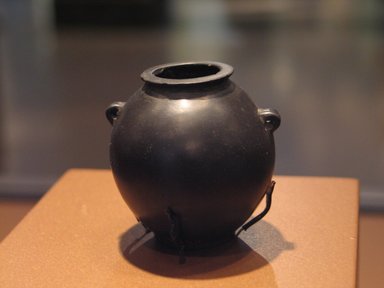 Cosmetic Jar
Ancient Egyptians often kept cosmetics in elegant little containers, just as many people do today. The tiny pierced handles of this miniature jar, perhaps used to store scented ointment, allowed it to be suspended out of the reach of children, pets, and crawling insects.
Catalogue Description:
Small black basalt (?) vase with two pierced handles on upper part of body, undecorated. Condition: Perfect except for very minor chips on rim. Drill marks very evident on the interior. Walls quite thick. Unfinished inside.
---