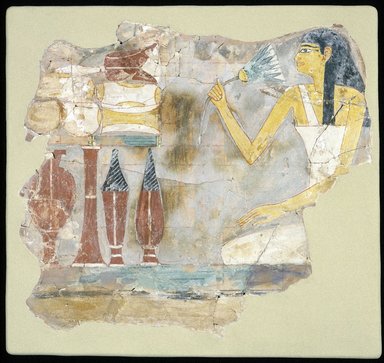 Fragment of a Tomb Painting with Seated Woman Holding a Lotus
This fragment of wall painting from a tomb depicts a woman sitting on a green mat, inhaling the fragrance of a blue lotus. Sealed jars of beer and wine rest under a table loaded with other offerings of white and yellow loaves of bread and a dark red calf's head. A grid of red lines that guided the draftsman in positioning the objects and proportioning the figures shows through where the paint has worn thin.
Catalogue Description:
Small fragment of a tomb painting with seated woman at right holding a lotus. Before her is a large table of offerings. The painting retains its background of red guide lines. All objects including the figure of the woman are outlined in red. The flesh of the woman is the usual yellow and her dress is white. The pottery is red and the offerings yellow and white. The pavement is a delicate blue, most of which has flaked off. Condition: The painting has been set into a shallow frame and filled out with plaster painted a deep pink. There are many cracks and small gaps, though the surface is in good condition. Technique: The gesso is laid on a base of mud and straw (or rushes).
---