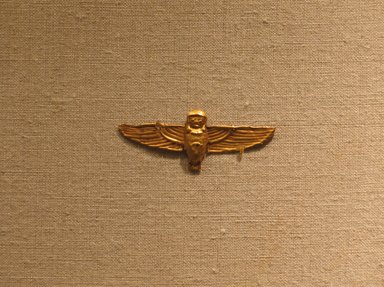 Amulet Representing the Ba-bird
Catalogue Description:
Amulet representing the soul as a human-headed falcon cut from sheet gold. Apparently a female face, necklace indicated as well as hands which seem to support breasts. Front of body and wings made of one piece of gold. Back of body a separate, piece, without detail, held in place by bending back the edges of front of body. Each wing pierced in upper center for attachment. Left wing retains small portion of gold loop or ring. Condition: Intact.
---