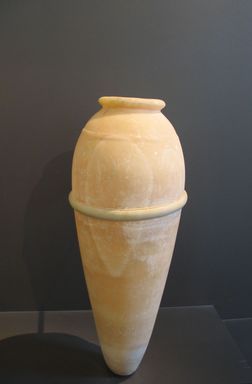 Vase with Pointed Base, from the Burial of King Djoser
Catalogue Description:
Large calcite (alabaster) vase with pointed base. The vase has a pointed end and widens gradually toward the top tapering in again to the thick rim; undecorated. About 6 cm below the rim is a thin band in low relief, a detail frequently found in stonework of this period. Condition: Rim has two large chips, body is cracked. Base of vase slightly rough and shows traces of a light blue paint. It is impossible to say whether this is the remains of decoration or a deposit of some other object, but it is probably the latter.
---