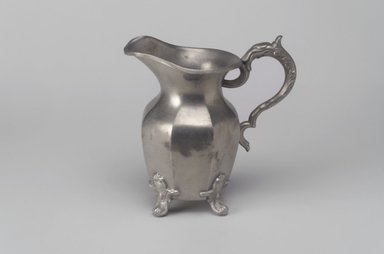 Cream Pitcher or Creamer
Catalogue Description:
Highly polished pewter cream pitcher (creamer), footed. Cylindrical body divided into eight sections (octagonal in cross section), bulges out at shoulder, tapers as it rises into neck, and then flares out into wide opening with continuous arching spout. Pitcher has attached S-shaped handle with molded decorations and stands on four decoratively molded feet. CONDITION: Good; allover light scratches and pitting; few dark spots of discoloration; one side of spout higher that the other as if bent out of shape.
---