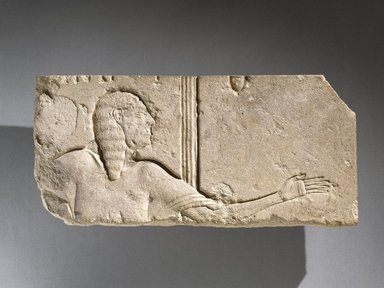 Relief of an Aged Courtier
Unlike Egyptian sculpture, both Egyptian reliefs and paintings rarely depict elderly persons. This very exceptional relief shows an unknown man in full maturity with a marked furrow from his nose to his lips, a double chin, prominent collarbones, a bulging Adam's apple, sagging pectoral muscles, and deeply lined paIms. Most unusual is the pronounced vein or artery in his extended forearm. This remarkable naturalism is a legacy of the Amarna Period. The style of the wig is indicative of the date.
Catalogue Description:
Oblong limestone relief. In sunk relief head and bust of man facing left. Left arm outstretched with hand and forearm frontal, thumb in perspective. Realistic, elderly face with elaborate wig. Vertical bar (support of a canopy?) behind man; remains of hieroglyphs and unidentified object at top edge. Condition: Poor. Entire stone heavily saturated with salts. Some of surface has been lost. Portions of face flaking. All edges very soft. Top edge of relief has been cut in modern times.
---