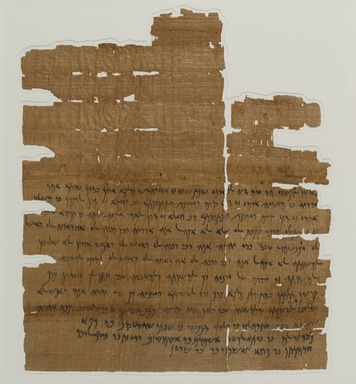 Aramaic Adoption Contract
This document originates in the archive of Ananiah and Tamut, members of a Jewish family living on Elephantine Island in the fifth century B.C.. This contract allows a man named Uriah to adopt a boy named Jedaniah and thus free him from slavery. Adoption was one legal method used to free slaves in ancient Egypt.
Catalogue Description:
Papyrus inscribed on recto only in twelve lines of Aramaic. Upper half of recto blank. Translation of text in vertical file. Condition: Text practically intact. Upper right corner of blank portion missing. Minor gaps at edges. Papyrus folded through present left center. No writing visible but one overlap (one third of width) was clearly missing.
---