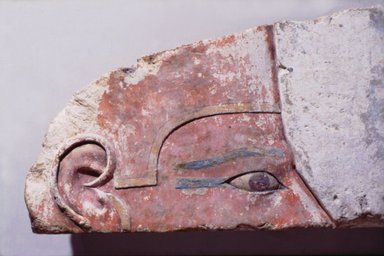 Fragment of Temple Relief of King's Face
Most Egyptian reliefs decorating ancient temple walls were brightly painted. Limestone was too porous to allow for an even application of color, so artists usually covered a wall with plaster, smoothed the surface, and painted directly on the dried plaster. Over time, the painted plaster layer separated from the limestone and fell from the wall, so very little original coloration survives. Through the accidents of preservation, this fragment of the king's face retains most of its ancient paint.
Catalogue Description:
Fragment of limestone temple relief. At left, upper half of face of king wearing Upper Egyptian crown. At extreme right, portion of two strands of flail (?). Colors well preserved; skin of king red; eye-strips and eyebrows, blue; crown yellow (?); background, white. Condition: Preserved portion intact. Slight loss of paint.
---