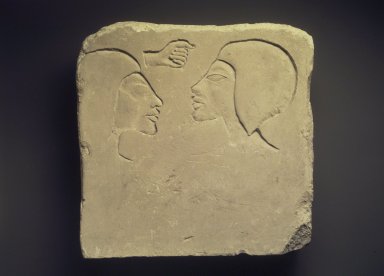 Trial Piece with Two Heads
Catalogue Description:
Limestone trial piece. On one large face, two incomplete incised male heads with wigs, the latter undecorated. Above the left hand, a clenched hand, profile view. The heads, which face, are more or less unfinished. Workmanship not fine, probably the effort of a student. The stone is wedge-shaped, tapering towards top. Condition: Good. Lower right corner missing. Scattered chips.
---