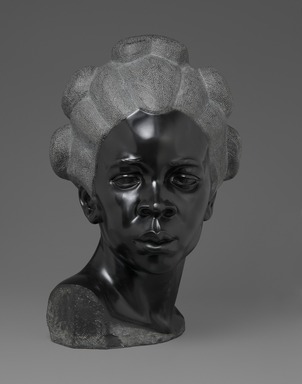 Martinique Woman
The heroic scale of this head of a woman from Martinique, along with the dramatic quallity of the black marble from which it is carved, lends this work a particular drama and power. The sculptor Malvina Hoffman's interest in representing individuals from widely divergent cultures led in 1929 to two years of global travel in preparation for her best-known project: more than a hundred realistic bronze sculptures of "The Living Races of Man" commissioned for a "scientific" display on world cultures at the Chicago's Field Museum of Natural History.
Catalogue Description:
Over-life-sized head of woman with African features, head turned to right in 3/4 profile, hair gathered into small buns all over head, surface of skin is smoothly polished while hair is roughly textured. Medium possibly marble. Condition: Good, few small scratches and nicks overall.
---