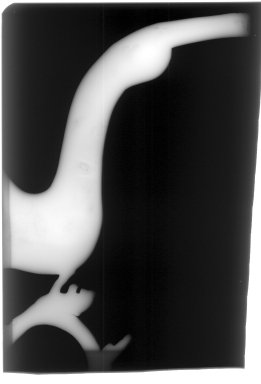 Wine Vessel (Zun) in the Form of a Goose
Catalogue Description:
Pouring vessel in the shape of a goose in an aggressive posture with its wings partially spread. The vessel was used for the heating and pouring of wine. The handle rises from the backs of two partial lion figures. Incised lines indicate the eyes and feathers of the bird. Although here attributed to the Han dynasty, certain aspects of the vessel's form (most notably the lions) suggest a later date, perhaps to the Tang dynasty, when lion forms were frequently borrowed from Central Asian traditions. Likewise, the incising (which was added after the casting of the overall form) is more typical of Tang bronzes.
---