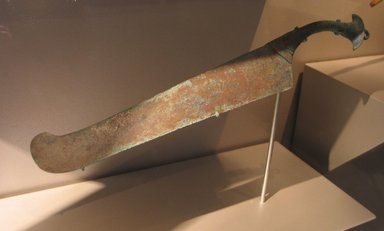 Ceremonial Saw in the Shape of a Maat-feather
Catalogue Description:
Knife-like cutting instrument in bronze consisting of a blade in shape of the m,.t-feather with a finely serrated edge and of a handle in the form of a curved papyrus bundle with umbel, the latter bearing a ring of suspension; all in one piece. Condition: Good although slightly corroded and discolored in spots. Traced of bronze disease.
---