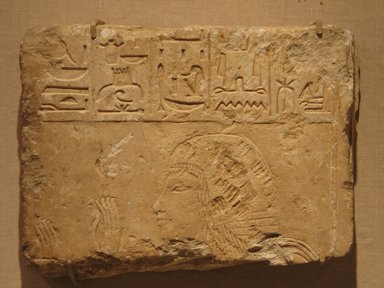 Relief of Amunmose
In this relief an elaborately dressed official raises his hands in an attitude of adoration. The five columns of text above his image identify him as Amunmose and mention both the god Re and an unspecified king.
Catalogue Description:
Near white limestone slab with low relief representation of a man's head, facing left, both hands raised in front of him, surmounted by the lower part of five columns of plain sunk hieroglyphs reading from left to right and ending on the name (Imn-)ms'. Vertical object, unidentified, in from of man's far hand. Echeloned wig, partly unfinished; triple lines over near shoulder. Condition: Chipped around edges as well as on the surface, but man's face is mainly undamaged.
---