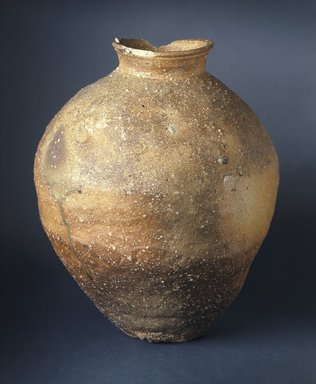 Large Grain Storage Jar
Catalogue Description:
Jar with predominantly amber-colored scorching with natural ash glaze. Typical of this ware, feldspathic deposits (of sand and gravel) in the clay. Stoneware. Jar has flaring neck and out-turned rim (tamt-buchi), broad sloping shoulders, wide body which tapers toward base. Flat base, slightly concave. From area southeast of Kyoto, one of the Six Old kiln sites. Condition: Pock marks throughout. Three breaks in lip. Some flaking on body. Area on base where clay and ash (?) accumulated in firing.
---