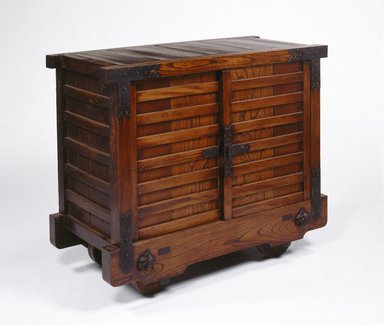 Kuruma-Dansu (Chest of Drawers)
Japanese merchants considered the easily moveable kuruma dansu, which kept valuables and merchandise in order the storehouse, an essential possession. The chests were often included as part of a daughter's dowry. The kuruma dansu displayed here, crafted in Yamagata Prefecture, is of exceptionally high quality. The frame and door panels are zelkova wood, the finest wood used in Japanese furniture construction. The entire chest is finished in a kijiri lacquer to accentuate the wood's naturally elegant grain.
Catalogue Description:
Large wood chest on four on four wood wheels. Enclosed on three sides with two sliding door panels on the front. Top surface consists of several panels. Decoration consists of horizontal wood slats applied to surface of all four sides, and door panels. Iron joint fittings and lock are made in Yonezawa/Yamagata style. Condition: very good. Small surface scratches and wear on top. Part of all of wood door panels may be replacements.
---