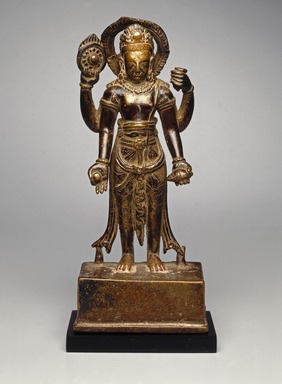 Standing Vishnu
This early representation of the Hindu god of preservation combines a hieratic frontal pose with the deity's four attributes: the wheel and a boss symbolizing the lotus in the upper and lower left hands, respectively, and a mace and a conch in the upper and lower right hands.
Catalogue Description:
Four armed Vishnu, standing on a undecorated rectagonal base. the god is crowned and adorned with jeweled earrings, necklaces, girdle, armlets and bracelets, and a stylized flame halo. In his hand she holds his attributes: The flamed cakra (wheel), boss (representing the lotus), conch and mace (which isnow missing from his upper left hand). The graceful rendedering of the dhoti, patterned with an incied stripe and dot pattern, and the scar draped at his hips, holding the sacred thread which axtends from his left shoulder in place, in contrast to the hieratic posture of the figure are aspects of the subtlety of early Nepalese bronzes.
---