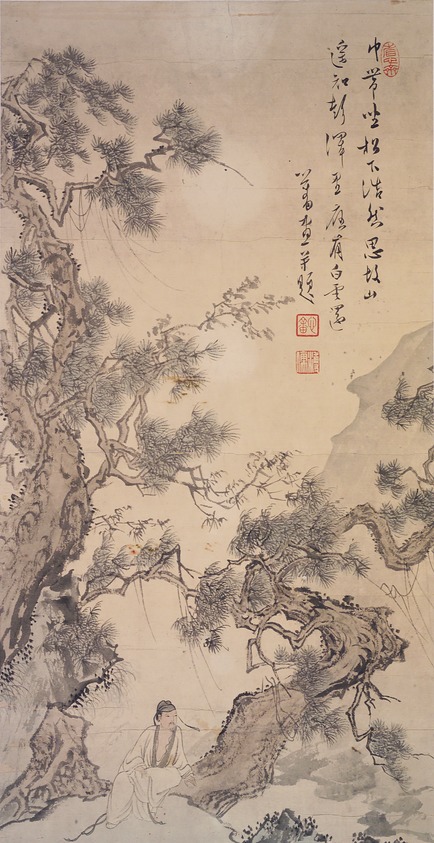 Scholar and Pines
The painter of this hanging scroll, best known for his landscapes, was a descendant of Qing dynasty (1644–1911) royalty. He received a privately tutored classical education that included training in painting and calligraphy, and he excelled at both. He began studying painting formally at the age of thirty, and as was the custom at the time, he learned by copying masterpieces in the royal collection.
Artist: Pu Ru
Medium: Ink and color on paper
Geographical Location: China
Dates: ca. 1950
Period: Republic Era
Dimensions: 31 x 23 1/4 in. (78.7 x 59.1 cm) Image: 22 1/2 x 11 3/4 in. (57.2 x 29.8 cm)
Markings: There are three artist's seals. The first seal reads: "Sheng-hsin Studio". The second reads: "Hsin-yu"; the third seal is "Pu Ju".
Inscriptions: Inscription at upper right is a four line poem, five character meter. It reads: "Often I sit under the pines, reminiscing of the mountains in my home town. In the remote lake of Peng-tze, there should be white clouds rising."
Collection: Asian Art
Museum Location: Brooklyn Museum, BMA, 4H, SCR 59A
Accession Number: 83.118
Catalogue Description:
Hanging scroll painting (now framed). A scholar wearing a white robe and Confucian head cloth seated on the ground between two gnarled pine trees amid rocks by the edge of a stream. Hillside in middle distance at right. Light green brocade border, wood frame with plexiglass. Condition: Several restored horizontal cracks; minor stains.
---