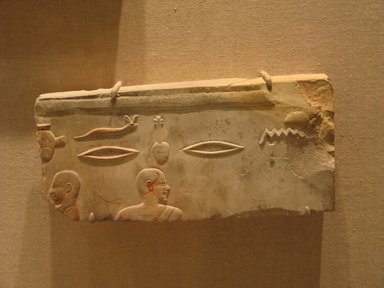 Relief of Two Figures with Different Coiffures
Scenes of daily life, many of which may actually have had religious significance, were a basic element of private-tomb decoration until the first part of Dynasty XVIII. Their renewed popularity in tombs of Dynasties XXV and XXVI reflects that era's penchant for the past. It is uncertain whether the unusual frontal depiction of the scribe shown here is an archaism or an innovation of the relief's own time.
Catalogue Description:
One painted limestone relief depicting two male figures with different coiffures and an accompanying text in hieroglyphs. At the top, traces of a second register with the feet of a bovine. Condition: The edges are cracked and there are some piece missing from the extreme right hand edge. The object has numerous hairline fissures which do not seem to go through the entire block.
---