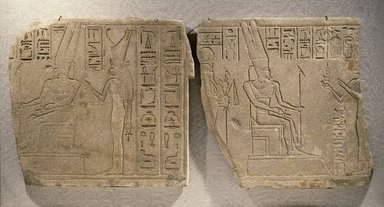 Relief with Deities and High Priestess
Catalogue Description:
Fragmentary sandstone slab with decoration in sunk relief. To the right is the partially preserved figure of a woman. She is accompanied by the labels s3t-nsw (erased) and drt-ntr (Imnirds). The traces in the deliberately erased cartouche are those of the name Kashta, which makes the woman the GWA Amunirdes I. She faces right to offer an image of Maat to a seated figure of Amun-Re and a standing mummiform figure of Khonsu-in-Thebes-Neferhotep. The former is accompanied by utterances and the epithets nswt-ntrw ntr '3 nb pt. Condition: Rear half of Anumirdes's figure missing. Rear and lower parts of figure of Khonsu are missing. Numerous chips and gouges and encrustations. Some refinishing of surface with a tan pigment.
---