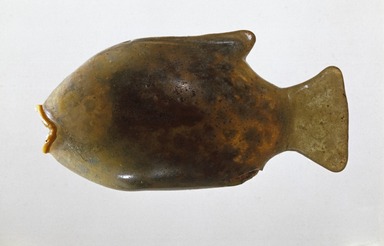 Hollow Core Vessel in Form of Fish
Catalogue Description:
Hollow core made glass vessel in the form of a fish with open mouth. The fish is rather simply modeled with the body surfaces treated as smooth curves and with the only fins represented being the lower dorsal fin. The piece is made of transparent, all but colorless glass with, on the inner surface, blue glass spots and lines. The eyes are blue and yellow, and a ribbon of opaque yellow glass outlines the mouth. Condition: Remnants of pale tan core on inner surface. Layer of whitish surface disintegration. Large piece missing on one side; small hole near the tail. Several small cracks.
---