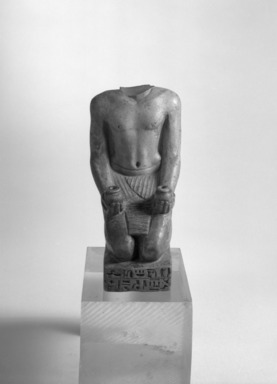 Kneeling Statue of Nesbanebdjedet
Nesbanebdjedet was one of several Libyans contending for rule in Egypt from the end of Dynasty XXII to Dynasty XXIV. He seems to have had an exaggerated sense of his own power. The hieroglyphic text on the base uses phraseology normally applied only to kings, and the kneeling attitude is usually reserved for royal representations.
Catalogue Description:
Pale green glassy faience (or glazed steatite?) figure of Nes-ba-neb-djedit, "Prophet of Amun-Re," kneeling, holding two nw-pots and wearing a shendyt kilt. Back pillar and base inscribed. Head and top of back pillar missing.
---