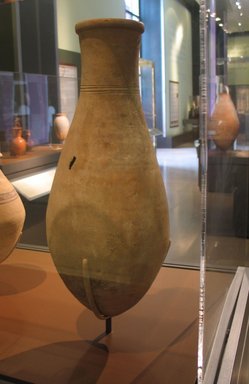 Storage Vessel with Simple Incised Decoration
Catalogue Description:
Large gourd-shaped jar of pinkish pottery. Slender graceful shape, with bluntly pointed bottom, ovoid body with deep waist, very slightly spreading neck, its beginning marked by a four-coiled spiral incised line; torus-lip, well offset. Rather wide straight mouth. Condition: A crack runs from rim down to waist, through a rather large hole in center. Slight chips on rim.
---