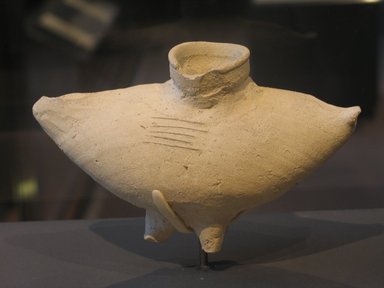 Vessel in Form of Bird's Body
During the Second Intermediate Period, Upper Egyptian potters produced highly unusual vessels in the form of plump birds with pointed, knobby heads. These vases, such as the example displayed here, share two common features: they have three legs to provide stability, and the bird's wings are rendered as incised lines.
Catalogue Description:
Fancy vase, in the shape of a bird's body. Supported on three short legs. One end squeezed into a tail-like edge. The other end bluntly pointed; its top being broken, fortification by outer layer of clay is revealed. On back, off center, rather high, lipped orifice, set around smaller hole in body. On flanks, short, horizontal lines are scratched in - four on one side and five on the other. Pale buff fine clay. Faint traces of brown color, perhaps accidental. Coarse piece. Condition: Top of one end broken off. Deep chip in lip of orifice.
---