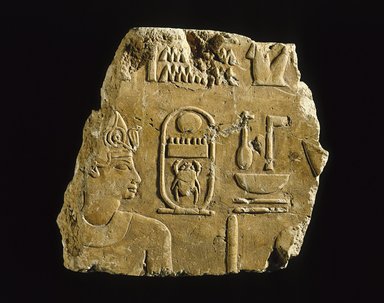 Royal Statues in Procession
The hieroglyphic text in this fragment identifies the figure on the left as Thutmose III. On the right edge in front of him, traces of another figure, most likely the female king Hatshepsut, remain. These figures are images of statues—not of the rulers themselves—that "participated" in a religious procession depicted on a wall of Hatshepsut's funerary temple.
Catalogue Description:
Limestone raised relief showing royal statues in procession. At left, the upper body of Thutmose III, identified by the inscription before him. To the right, the crown and near shoulder of another king, possibly Hatshepsut.
---