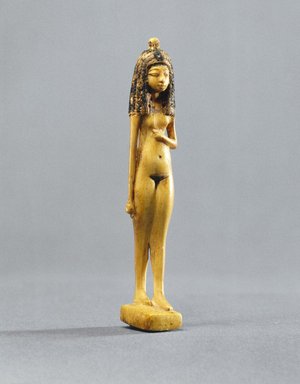 Statuette of a Nude Girl
To ancient Egyptians, this miniature representation of a nude young girl would have had erotic appeal. Her heavy wig alludes to the Egyptian practice of wearing an elaborate coiffure during sex. The gesture of placing the left hand beneath the breast also had a strong sexual connotation. Although this figure's original function is not clear, the loop on the top of the head implies that it was suspended from a cord.
Catalogue Description:
Small painted ivory statuette of a nude standing girl, wearing elaborately braided wig; suspension loop on the top of wig. Left arm held under breasts. Hair painted black; minute traces of red pigment on body. Condition: Practically perfect. Necklace missing. Two minute holes just above pelvis suggest figure may have worn a belt or girdle.
---