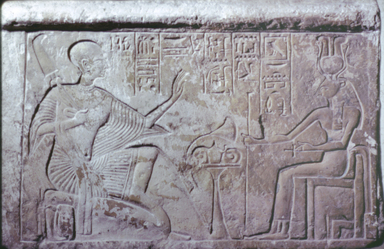 Sunk Relief of Ramessesemperrre
Catalogue Description:
Oblong, limestone, sunk relief of Ramseesemperre, Fan-bearer on the right of the king, kneeling before small table of offerings worshipping the cow-headed Hathor, seated at right. Six columns of inscriptions. Condition: General condition good. Entire surface worn. Minor chips. Brown stains on man's body probably remains of paint. Remains of blue pigment in hieroglyphs and on Hathor's body. Relief must be examined for salts.
---