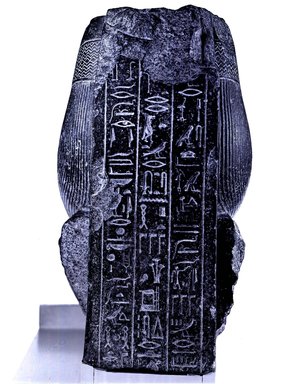 Kneeling Statue of Khaemwaset
Catalogue Description:
Black granite kneeling figure of Khaemwaset, a son of Ramesses II. Only the lower portion of the figure remains. He is kneeling and holds a table of offerings before him. The usual pillar runs up the back with inscriptions. The pose is a highly formal and conventionalized one common to Egyptian art of various periods. The modelling is firm and crisp giving as a splendid specimen. Condition: The figure is missing from the navel up; the two feet are missing; the remaining surface is considerably chipped and pitted.
---