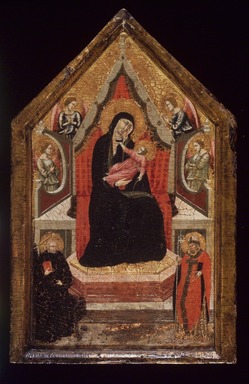 Virgin and Child Enthroned with Saints Benedict and Donato (?) and Four Angels
Catalogue Description:
Center panel of a triptych depicting The Virgin (black mantle) enthroned and holding a child (red dress) on her knees. At the top of the panel are four angels, two on each side of the throne, and at the foot of the dais is a figure in black monastic robes and another in Bishop's attire.
---