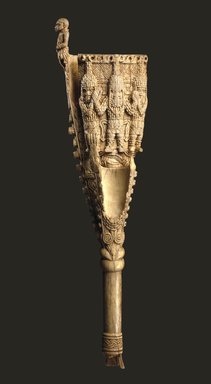 Double Bell (Egogo)
This is one of the oldest surviving African ivory sculptures, dating from the sixteenth century. Such double gongs were used in rituals by the oba (king), to driveaway evil spirits.
The carving depicts the oba, possibly during his installation. The costumes are made of coral beads, a high-status material. Carved below is a crocodile head, a symbol of authority, consuming a hand, a symbol of success. The two together refer to the oba's supremacy.
Since ivory is rare and precious, whenever an elephant was killed one of its tusks was presented to the oba.
Catalogue Description:
Two bell forms on a long handle; large bell carved eith 3 figures: chief standing with arms upheld by attendants; background is elaborately carved with curved interlocking pattern, small bells or facsimiles of same run-up sides of sisturn and along top; one side of top has projecting human figure, on top of small bell is an alligator head holding a human hand. Base is geometrically carved. Large bell originally showed mudfish figure and snake-wing bird. Condition: Back of large bell broken. A second projecting figure broken off. Crack down front of large bell with a small upper section missing. Small bell has front broken off. Bottom broken in small area.
---