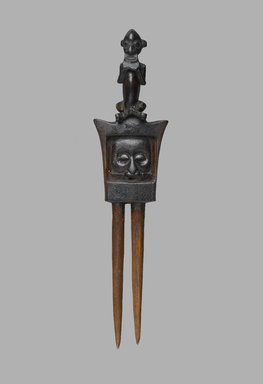 Comb with Face, Lizard and Cross-legged Figure (Yisanuna)
Catalogue Description:
Two pronged wood comb: prongs come from flat square central section the front of which has depressed square section containing face with forehead, crescent eyes, and 3-section protruding nose. The back has raised carved lizard figure with surrounding incising design. Perched above this is a seated cross-legged figure with hands to large beard. Figure and features in square below face same direction. Carving of dark wood stain, prongs lighter. CONDITION: Good. Chip at beard, knee and one prong.
---