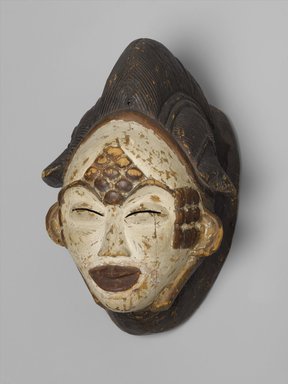 Mask for the Okuyi Society (Mukudj)
Catalogue Description:
White-faced female mask with heart-shaped face, coffee bean eyes and open mouth. Small ears set at right angles to head. Large areas of scarification between brows and on both temples. Elaborate coiffure with large roll of hair running from front to back on center of head, smaller flaps of hair over ears. Masks on wooden backing (carved in one piece with face of mask). Face covered with white paint, the symbolic color of ghosts. Mask similar to white-face masks used by Ibo in their Mmwo society. See also Museum's 22.225 for similar Balumbo example. CONDITIONS: Good. Piece missing under chin. Section from left hair flap missing, right hair flap chipped. Piece also missing from top of backing. Paint flaked on face. Lips restored in 1969.
---