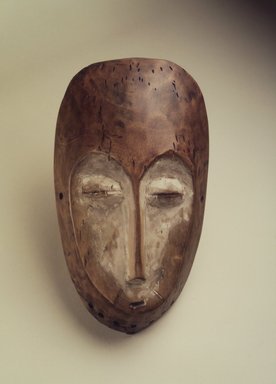 Mask (Lukwakongo)
This mask is probably of the idumnu type, which would make it the personal and hereditary property of an initiated member of the Bwami society. Its concave, heart-shaped face is highlighted by kaolin, a white clay associating the mask with the dead and thereby the continuity of Bwami. These masks, which have no eyeholes, were occasionally worn on the forehead or the back of the head. They were important as symbols of social rank and as tools of instruction in Bwami initiations. The highly simplified face is typical of Lega art.
Catalogue Description:
Oval shaped wooden face mask with concave, heart shaped face area. Facial area painted white; some of the paint has worn off. Seven drill holes appear on bottom and one on each side of mask. Coffee bean shaped bulging eyes with slits in center. Mouth aperture is very small with two diagonal notches on either side. Long narrow nose extends down from arching browline. CONDITION: Cracks and pitting on forehead and chin.
---