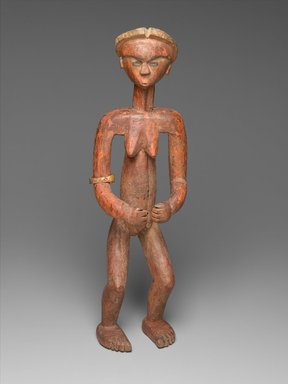 Standing Female Figure (Gheonga)
The Bwiti religion is widespread throughout Gabon, though it originated with the Tsogho, who are said to be its most powerful practitioners. This female figure likely accompanied a male figure in the rear of the shrine, or ebanja house, where Bwiti worship took place.
Catalogue Description:
Wooden standing female figure originally thought to be painted with red (tukula) wood powder (pigment tested by Jean Portell 1984-1985. Tested as red lead. Report published by Canadian Conservation Institute). The legs are slightly bent forward, feet apart, arms away from sides and bent with hands held in front of torso. A separate thin wooden bracelet has been placed on right arm. The forehead is slightly curved and facial area slightly recessed. The neck is long and tubular. The eyes consist of applied black colored metal pieces that are cut out in the centers. Mouth is small and protrudes. Ears are circular. The coiffure is like a flat cap with a cleavage on the front rim; the back is composed of irregular grooves. CONDITION: Red paint wearing. Check extending from underneath left breast the length of the torso. A portion of left front side of neck missing and a void at base. Part of pubic area void. Figure is mounted on a modern black metal stand. Note: Surface was stabilized by Conservation Department 3/75.
---