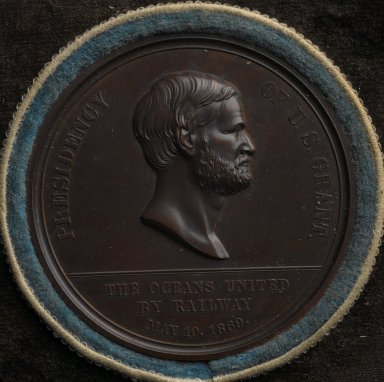 Pacific Railroad Commemorative Medal
Catalogue Description:
Circular medal (a) in presentation frame (b). (a) Obverse: Profile bust of bearded man (Ulysses S. Grant) facing right, surrounded by text: "PRESIDENCY OF U.S. GRANT" and text at bottom: "THE OCEANS UNITED / BY RAILWAY / MAY 10,1869." Reverse: Railway train in landscape; in scroll in sky: "EVERY MOUNTAIN SHALL BE MADE LOW."; below landscape: "MEDAL SERIES OF THE / U.S. MINT. / J. Pollock Director." (b) Cloth-covered wooden frame with depressed area to insert medallion. Purple, blue and brown velvet. CONDITION: (a) Normal wear, good. (b) Velvet much worn.
---