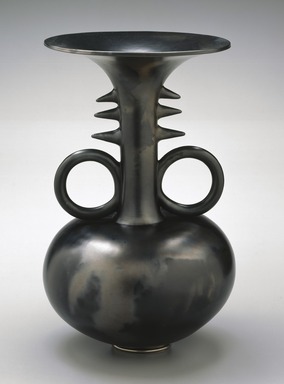 Vessel
Magdalene Odundo was born in Kenya, raised in India, and educated in England and Kenya. Like many African artists today, she is influenced by both African and non-African traditions. This pot was made using traditional African techniques: hand-built coils, burnished both before and after applying slip, and fired using a wood-chip, reduced-oxygen process that produces the smoky black surface. However, the pot's style is thoroughly modern, designed exclusively for display as a work of art, with no utilitarian or ceremonial function attached.
Catalogue Description:
Black narrow-necked, symmentrical vessel made in 1990 by Magdalene Anyango N. Odundo who was born in Nairobi, Kenya (Luo, b.1950). Hand built vessel finished with a burnished slip and reduction-fired in a saggar to give a variegated black and orange-red surface. Condition: Excellent.
---