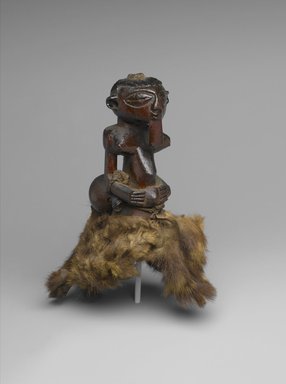 Divination Torso Figure (Nkishi)
Magical specialists called banganga use sculptures such as this male half figure known as a mukishi as devices for protection and divination. A mukishi is infused with magical substances drawn from the wild, which activate the spirit force of the object. This figure derives its power from a small medicinal charge in the cranium, a "skirt" of monkey fur, a tiny horn worn on the right arm as an amulet, and a small gourd filled with magical substances, as well as from its sacrificial coating of palm oil.
Artist: Zimba (Culture)
Medium: Wood, fur, cord, horn, gourd, metal, palm oil
Geographical Location: Maniema Province, Democratic Republic of the Congo
Dates: 19th century
Dimensions: 7 3/4 x 4 x 5 1/2 in. ( 19.7 x 10.2 x14.0 cm)
Collection: Arts of Africa
Museum Location: Brooklyn Museum, BMA, SPECIAL EXHIBITION, 1- Rotating 1Q18
Exhibitions:
Accession Number: 1996.21
Catalogue Description:
The main portion of the object consists of a carved human effigy. Stylized features of face, beard, hairdo and torso. Earholes have been drilled on both sides of the head. Another hole on top of the head has been filled with unknown material. The p. right arm is wrapped with cordage which runs through a small horn and ties it to the arm. Another length of cord runs around the waist and through a small gourd bound to the back. Below this the object has been wrapped with a piece of hide, most of its fur still intact. It is tied at the back The wood, cord, horn and gourd have been coated with an oil/resin material. Condition: good and stable. The wood shows some cracking; the hide is generally brittle. The surface is dusty overall.
---