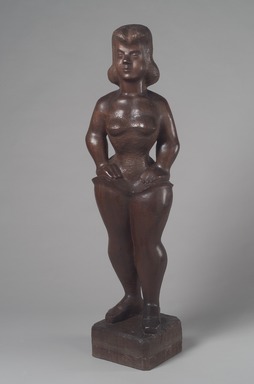 Ballerina
Chaim Gross, the son of an Austrian woodcutter, was an early proponent of direct carving and single-handedly revived the art of wood carving at a time when his peers were working in stone. The subjects of many of his works are acrobats and dancers. Ballerina reflects Gross's interest in the carving traditions of tribal art, as well as his love and understanding of the often exotic hard woods that were his materials of choice. For many years, Gross taught sculpture at the Brooklyn Museum Art School, which was a part of the Museum from 1941 to 1985.
Catalogue Description:
Carved figure of ballerina with hands on hips standing on square base; blocky, stylized forms; skin is sanded smooth and dress, shoes, and base roughly worked. Condition: Good, small crack in edge of skirt above proper right leg.
---