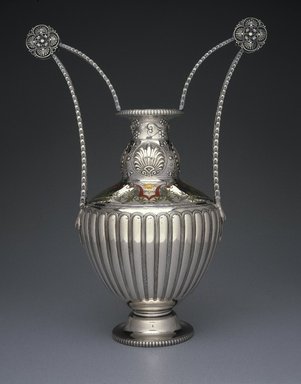 Vase
This large vase, based on an ancient form and inlaid with colored enamel decoration, is inspired by Beaux-Arts design, made popular in the late nineteenth century by architects such as McKim, Mead & White, who designed the Brooklyn Museum of Art's building. The vase bears a special mark indicating that it was made specifically for exhibition at the Paris Universal Exposition of 1900. Silver companies often reserved their finest productions for exhibition at the great international trade fairs in the nineteenth century. These fairs provided a forum for exchanging ideas and showcasing and promoting a company's wares. It was at the Paris Universal Exposition of 1878 that Tiffany & Company won international acclaim and established their reputation as a leader in silver design not just in the United States, but throughout the world.
Catalogue Description:
Circular foot with gadrooned rim rises in ogee-profiled dome to circular band. Above this is amphora-shaped body. The lower, flaring body of the vase is gadrooned, with each lobe surrounded by a double line. On shoulder is double line band above which is a band of enamel decoration inlaid into the silver. The decoration comprises a green meander vine with green clusters of leaves, alternating four- and five-petalled; there are four stylized lyres of red and within each lyre, stylized eight-petalled flower in yellow with three graduated yellow dots below. At base of neck is double line band. Neck is bulbous in lower section, concave and flaring above. In lower section are four large repoussé palmettes with fleur-de-lis and dots between them. Above single line band is repoussé meander vine with heart-shaped leaves and clusters of seven berries. Rim of vase is gadrooned. The base has two handles, each sweeping outward from shoulder to a double-disc rosette above vase rim and then arching back to rim. The case double discs are quatrefoil in shape, each with four palmettes and four small leaves radiating from central dot. The handles comprise outer bands covered with overlapping fish scale decoration; between the two bands is cast, pierced meander vine with chased heart-shaped leaves and clusters of three berries. The outer bands terminate at juncture with body in swan's heads. At juncture of rim is V-shaped tan inside rim. Condition: Terminal disc bent slightly together. Surface covered with minor scratches. Gadrooned body of vase has numerous deeper scratches, pits, and small surface dents. Enamel chipped in the following locations: top petal of yellow flower underneath one handle and the petal to the left to the right of this, as well as right arm of lyre near this petal. Green enamel abraded below each of the lyres which are near the handles.
---