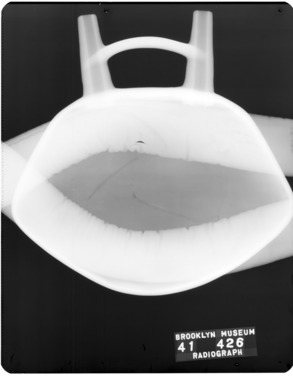 Double Spout and Bridge Bottle
Catalogue Description:
Ceramic vessel with double spouts joined by a bridge handle. Its rounded bottom converges to an almost flat top on which two tapered spouts sit, joined by a convex bridge handle. The reddish clay has painted decoration in red, reddish brown, black, grey, white, and yellow ochre. The upper half of the vase has serpents and jaguar motifs vividly painted on a white background. Encircling the vase below these creatures is a series of human heads. The lower section of the vessel is undecorated. Condition; good; some surface abrasions.
---