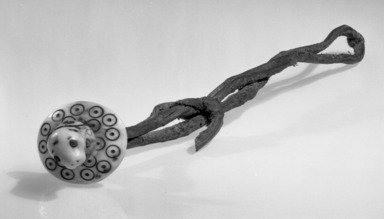 Drag with ivory seal-head toggle
Catalogue Description:
The toggle head is a seal poking through the ice at one end with an angled spur located at the other. The toggle types have a line hole near the midsection of the harpoon head.The toggle head is attached to a fore-shaft assembly which provides the weight to thrust the head through the mammal's skin and blubber right down into the muscle. When the strike is good enough to get the harpoon head deep into the animal's muscle, the fore-shaft assembly falls away. This toggle may have been used for seal hunting.
---