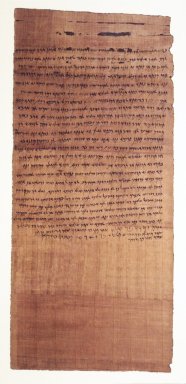 Ananiah and Tamut Give Yehoishema a House
Catalogue Description:
Papyrus 9 (Anani (Ananiah) b. Azariah Gives his Daughter Yehoyishema Part of a House. Recto, 26 lines of text. Blank areas at top and bottom. Small gaps at top of text. Verso, single line of text. Oval seal impression in clay. The design consists of a winged disk and crescent moon above, with a figure in Persian (Achaemenid) costume below to the left. To the right is a prancing animal with a long tail and head turned, possibly a bull. Upon arrival: Folded and sealed papyrus of same type as 47.218.88. String is heavy and braided, fastened with mud seal bearing impression of Achaemenide seal. Inscribed in Aramaic in three letters on outer top end and in single line on entire lower side. Condition: Practically intact. Slight breaks on edges and at folds. End very slightly torn.
---