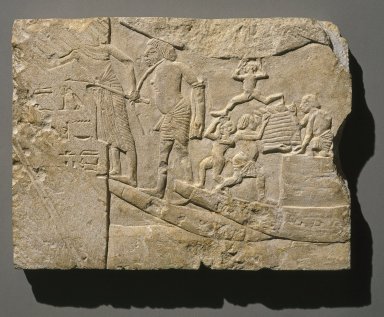 Harbor Scene
This highly detailed relief seems to represent the presentation of an important prisoner and his property to a general. An officer leads the bound captive by a rope tied around his neck and presents him to the unseen commander. To indicate his high rank, the commander was represented on a much larger scale than the other figures in the scene. Note the traces of his staff in the lower left corner.
Catalogue Description:
Fragment of limestone tomb relief. At right in raised relief two small boats, one of which is being unloaded by two men (the one at right possibly a hunchback). Two naked boys at play, one on boat, the other in water (?). Remains of another boat above this scene. On the second boat an Egyptian leads off to the left a bound prisoner whom he probably was presenting to an official. Figure of the Egyptian seemingly unfinished and is in both raised and sunk relief. Incomplete, incised inscription at left center. In lower left, the rigging (?) of another ship. Condition: Lower left corner broken off. Stone in sound condition. No remains of paint.
---