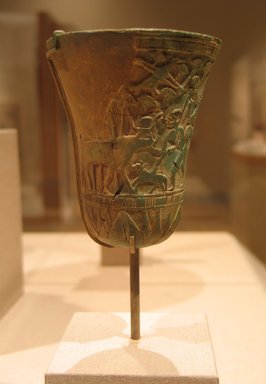 Fragmentary Body of Cup
When its stem and blue glaze were complete, this vessel would have resembled more closely the blue lotus (Nymphaea cerulia), a symbol of creation, re-creation, birth, and rebirth, presumably because its flowers rise from the water to open each morning. The swamp scene may reflect ideas of the primordial landscape of creation, and some of its elements appear to hark back to the art of much earlier times.
Catalogue Description:
Green glazed cup of chalice type.
---