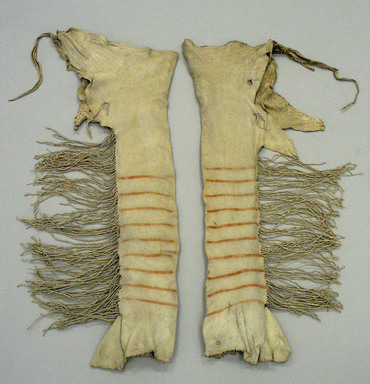 Pair of Red and Brown Striped Leggings for Chief's Dress
Catalogue Description:
These leggings match 50.67.3a. The treatment of the skin of the leggings seems close to that of the shirt in texture and color as well as similar to the leggings of 50.67.9a-b. However, the color of the painting on the shirt and leggings differ with the shirt having red and black pigment and the leggings painted a reddish brown. The leggings show signs of use. The top is stretched and the ties twisted to conform to how they would have been tied. The leggings have tabbed bottoms, cut short across the top of the inset. The internal fringe is quite long, some 10 1/2 inches at the longest. Both leggings are painted with horizontal stripes, the proper right with nine stripes and the left with ten. The color varies from orange on the front to brown on the back.
---