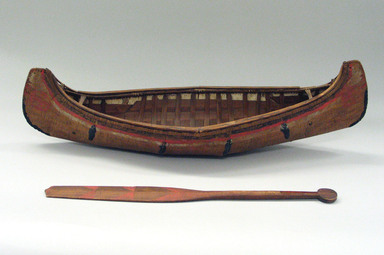 Model of Dug-out Canoe and Paddle
Catalogue Description:
The model canoe is carved from a solid piece of cedar. The canoe (a) is decorated with red paint around the upper edge and has a small hole in each end. The inscription on the canoe reads, "Model of a Sioux canoe and paddles." The inscription on the paddle reads "Model of Sioux canoe paddle." The paddle (b) is made from soft wood and decorated with red paint. It has a flat circular handle.
---