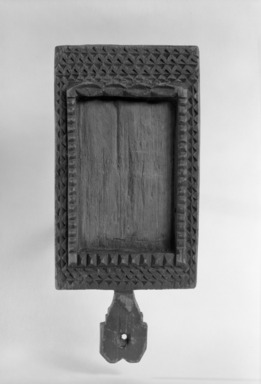 Chief's Looking Glass Frame
Catalogue Description:
This rectangular wooden frame that once housed a mirror is decorated with repeated borders of chip-carved triangles; resulting in an appearance of raised, zigzag lines. Closest to the rectangular depression made for the housing of the mirror is an additional border in higher relief. The top, right and left sides of this border are carved as a series of small, raised pyramidal forms. The bottom side of the border is a double row of opposed scalloped lines that combine to form horizontal, pointed ovals. This frame also includes a bi-lobed, perforated handle.
---