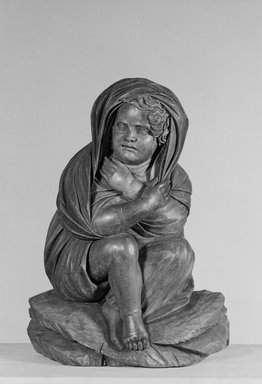 Winter
This statue of a shivering child personifies the winter season and, appropriately enough, was once part of an outdoor decorative scheme installed near the icehouse on a Philadelphia estate. William Rush began his career as an artisan-carver of figureheads for ships and eventually established himself as a sculptor of considerable note through important public and private commissions. He originally painted this sculpture to simulate stone, perhaps in an effort to affiliate his art with a more respected academic tradition.
Catalogue Description:
Carved statue of a seated child wrapped in a cloak; figure huddles with cold and turns slightly to the proper right; holds cloak below neck with crossed arms; some curly hair peeks out from under the hood; proper right leg is bare and crossed over the covered proper left leg; figure seated on round base that looks like a rock. Condition: Good, some cracks throughout the sculpture.
---