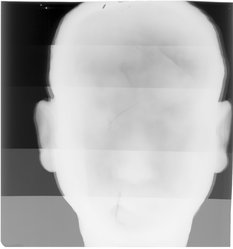 My Uncle
Even as we study the lifelike surface of this head, its expression may lead us to contemplate the psychic life at play behind the closed eyes. The sculptor Isamu Noguchi modeled this likeness of his uncle Takagi, a Buddhist priest, in gratitude for his hospitality during the artist's visit to Tokyo In 1931. One of three casts from the original clay sculpture, the head suggests the "closed-eye vision" achieved through meditation.
Catalogue Description:
Head of man facing frontally with eyes closed, loosely modeled surface. Molding seams are visible and there is plaster trapped in many of the recesses, presumably from the orignal mold. Condition: Good.
---